Cherry Valley Historical Society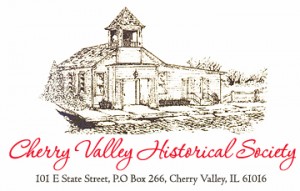 815-332-5200 • Email us at cv.historical86@frontier.com
Hours: The Historical Society is open to the public on the second and fourth Saturdays of each month from 11 AM to 1 PM. We aren't open on Saturdays on holiday weekends.
Meetings: Our meetings are held at the Historical Society on the first Sunday of each month at 6:30 PM, with the exception of holiday weekends, when the meeting will be held on the second Sunday.
Tours: For a private tour, call 815-332-5200.