About the Historical Society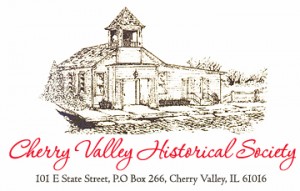 815-332-5200 • Email us at cv.historical86@frontier.com
In 1996 Village Clerk Nancy Belt wondered if there would be enough local interest to form a historical society. She hosted a "welcome meeting" which was attend ed by Ed Nelson, Dagmar Nelson, Sam Knighton, John Larson, Lyle Wilt, Frank Horn, Roberta Horn, Donna Riha, Delores Moore, and Stevel Appell. The idea was well received and the Cherry Valley Historical Society was incorporated in 1997 as a non-for­profit organization. Nancy served as Cherry Valley Historical Society's first president, followed by Donna Riha, and Ron Hollembeak.
In the beginning CVHS' s meetings were held at the village hall, the original home of the interurban sub-station at 202 E. State Street. When the village moved into its' new facility at 806 Elgin Street in 2001, CVHS meetings were held there. It was the dream of Ron "Pee Wee" Hollembeak and others to have the original town hall, owned by the village, as a home for the CVHS museum. The building had housed a gift shop but was soon to become vacant. The building was constructed in 1899, and served as the town hall until 1990.
Several members of the CVHS believed it would be an appropriate place for a museum. President Hollembeak presented a proposal to the village trustees with a request to rent the building. After deliberation the trustees voted in April, 2002 to rent the building to the CVHS for one dollar a year. Possession of the museum took place August, 2002. The meetings are held at 6:30 pm the first Sunday of each month unless it falls on a holiday weekend. Then they are held the second Sunday of the month. The museum is open to the public on the second and fourth Saturdays from 11 AM to 1 PM.